About Restaurants
SEINAN Group ventured into the art of culinary delights in 1993. Ghungroo, a fine dining Indian restaurant, first opened its doors at Aoyama and set the standards for authentic Indian cuisine in the region. Since then SEINAN group has expanded to 2 branches of Ghungroo. Setting the trends to new heights, SEINAN Group now presents a chain of restaurants by the name of Moti, a 40 years old company. Original taste and pride of North Indian & South Indian cuisine is served at its 3 restaurants. An ideal place for luxury fine dining with the right blend of ambience and authentic taste of Indian dishes which are graciously brought by SEINAN Group in Japan.
Ghungroo
The name Ghungroo, stems from a musical anklet tied to the feet of classical Indian dancers. The rhythm of its jingle as the dancers coordinates feet movement with classical Indian music set the standards for warmth and musical notes that revitalized the mind of the listeners. It was a tradition that predates the Maharajas of India. Ghungroo sets its tone from the origin of its name in creating classical Indian dishes that transforms the mind and body into an experience which was reserved by royalty of an era gone by. Ghungroo brings culinary delights as well as ambience into a mixed fusion of Indian tradition and authenticity in Japan that is one of its kind.
Moti
The word 'Moti' which means a 'Pearl' in the national language of India. A Pearl is known for its smooth, lustrous, variously coloured mass. Similarly, an opulence of the fine Indian dining with delightful presentation, scrumptious taste and smooth textured Indian curries resonates with its name well. As true to its name – Moti, is a crystal gem in the world of fine dining restaurants! The taste of carefully chosen spices, and at par culinary skills crafted into delectable North and South Indian dishes served at Moti, no doubt will prove a sheer transformation of ecstasy to your taste buds. As a pearl is set right into a beautiful ring, Moti is a fine example of Indian culinary authenticity in beautiful Japanese surroundings. Moti is just the place for an alleviation of taste, originality, atmosphere and enchanting dining experience.
Omotesando
Ghungroo is located at the fashion hub of Tokyo, Omotesando; just two minutes walking distance from Omotesando stantion. At Ghungroo, all curry are painstakingly made by hand at the time of order with authentic Indian spices while holding the age old recipes and traditional Indian preparation. All ingredients that goes into the preparation of food are imported directly from India. Rice, spices and wine from India all come into a blend of Indian authentic culinary festival which is Ghungroo.
Roppongi
Located at Roppongi, It is like entering in a palace of a Maharaja (King in India). It is at close a distance from Roppongi Hills, conveniently accessible from Hibiya Line Roppongi Station Exit 1A. A lot of celebrities and well known people visit here often, thus creating a dazzling experience. Enjoy your meal complemented with our Nan bread, aromatic rice.
Excellent venue for women's gatherings, small parties of up to 60 people. We also offer catering, takeaways, call us for more information.
Ghungroo
Omotesando, Tokyo
Specialized in Indian curry from authentic Indian spices and age old recipes. Ghungroo at Omotesando is a must stop for people with exquisite taste.
Bringing you the authentic taste of mesmerizing Indian food by highly talented Indian chefs. These chefs have an extensive working experience in top rated hotels in India.
Urayasu
Located at Urayasu, a close proximity to Tokyo Disneyland, Ghungroo is a stepping stone away from the Urayasu station. This second branch of Ghungroo that has been popular in the region for the last two decades. Specially trained Indian chefs in the art of authentic Indian culinary preparation, Ghungroo boasts rich flavors of Indian spices and chewy naan. Special tandoor in the kitchen brings in the authenticity of naan making and tandoor as it overwhelms the senses of its customers
Futako Tamagawa
Located in front of Dogwood Plaza station at 7th floor of Futakotamagawa. Dining here becomes an alluring experience while enjoying our specialty cuisine with a spectacular night view of the surroundings. The food is prepared with intricacies of the North Indian way of cooking. You have the option to adjust the level of spices as per your fondness.
Available for takeaways, catering, ladies gatherings, lunch & dinner parties etc. Give us a call for reservation or for more information.
Our tandoor brings in the authenticity in aroma and flavor which is so distinct in Indian food preparation. Tandoor made bread and meat is a one off experience that will leave you spellbound.
Moti
Futako Tamagawa, Tokyo
Our special multi flavored North Indian cuisine is definitely going to entice you for your time here. In Moti at Futako Tamagawa, you are offered to adjust the intensity of spices as per your liking.
Famous Indian Curries & Tandoori dishes
Indian curry, fresh vegetables and daal are the delicacies of India. Authentically prepared by expert chefs, we make each dish special. Whether its soft bread or rice, or meat and vegetables, Ghungroo is a time machine to reach back and experience India like never before.
Whether its tandoor made naan or chicken and mutton. You get the richness in aroma of succulent meat, intricately prepared in fresh herbs and spices to rekindle the flavor of the past.
Shimbashi
Moti at Shimbashi is a specialty North Indian cuisine restaurant which offers you exotic food prepared with variety of high quality spices and ingredients keeping the local taste intact. Our menu has a lot of delicacies to invoke your taste buds from authentic Indian curry dishes to unforgettable tandoori cuisine prepared with the best quality herbs and spices.
Ideal venue for ladies get-together and hosting small lunch or dinner parties. It is located at 5th floor of Bae Lusa 115 building, in front of Shimbashi station.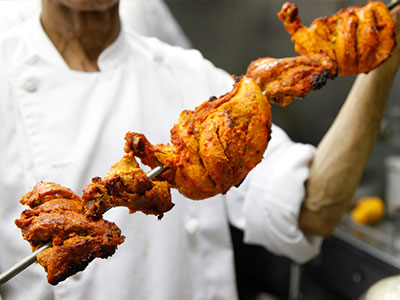 Indian Dishes
Curries & Tandoori
Indian curry, fresh vegetables and daal are the delicacies of India. Authentically prepared by expert chefs, we make each dish special. Whether its tandoor made naan or chicken and mutton. You get the richness in aroma of succulent meat, intricately prepared in fresh herbs and spices to rekindle the flavor of the past.
In Moti at Shimbashi, we offer North Indian cuisine prepared with over 40 types of highest quality spices and ingredients. A yummy delight for take-out, parties and social gathering.